Like Magic (Hardcover)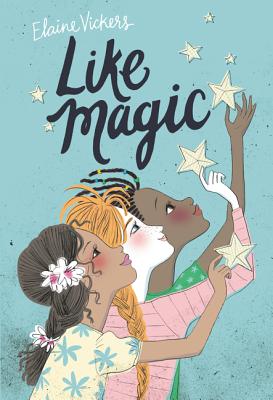 $16.99
Email or call for price
Description
---
"An endlessly endearing story of three girls' pursuit of friendship and the beauty and challenge of what it means to be 10." —Kirkus Reviews (starred review)
"Like Magic is truly a treasure." —Liz Garton Scanlon, author of The Great Good Summer
"Debut novelist Vickers has created three appealing, diverse characters with distinct talents and voices. A sweet story of friendship." —School Library Journal
"Themes of sharing, trust, and family never overshadow the story's heart: a natural longing for friendship and the unfettered joy of finding it." —Publishers Weekly
"Endearing. The setting and gracefully embedded ethnic differences add freshness to a story with a message that will stand the test of time: friendship is like magic." —Booklist
For three ten-year-old girls, their once simple worlds are starting to feel too big.
Painfully shy Grace dreads starting fifth grade now that her best friend has moved away. Jada hopes she'll stop feeling so alone if she finds the mother who left years ago. And Malia fears the arrival of her new baby sister will forever change the family she loves.
When the girls each find a mysterious treasure box in their library and begin to fill the box with their own precious things, they start to feel less alone. But it's up to Grace, Jada, and Malia to take the treasures and turn them into something more: true friendship.
Praise For…
---
"An endlessly endearing story of three girls' pursuit of friendship and the beauty and challenge of what it means to be 10." — Kirkus Reviews (starred review)
"Young readers will imagine themselves right smack into the middle of this book—solving mysteries, making connections, and creating beauty alongside Malia, Jada, and Grace. Like Magic is truly a treasure." — Liz Garton Scanlon, author of The Great Good Summer
"Debut novelist Vickers has created three appealing, diverse characters with distinct talents and voices. Just right for sensitive tweens, this is a sweet story of friendship and learning to cope with common fears and life changes." — School Library Journal
"Themes of sharing, trust, and family never overshadow the story's heart: a natural longing for friendship and the unfettered joy of finding it." — Publishers Weekly
"Endearing debut. The setting and gracefully embedded ethnic differences add freshness to a story with a message that will stand the test of time: friendship is like magic." — Booklist