Paper Chains (Hardcover)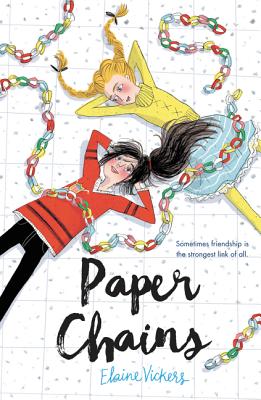 $16.99
Email or call for price
Description
---
From the author of critically acclaimed Like Magic comes another sweet middle grade story about friendship, family, and discovering where you fit in the world.
Katie and Ana are the kind of friends who share everything with each other. But there are some things you can't even share with your best friend.
Katie has always known she was adopted, but recently she's been wondering about her birth parents and her birthplace. She worries that saying this out loud—even to her best friend—could mess up the perfect family she has now.
Ana's family has been falling apart ever since her dad left, and it's up to her to hold it together. But Ana fears no matter how hard she tries, her family may never be whole again.
At a time when they need each other the most, the links between the girls are beginning to break. Before they lose each other, they must work through the tangles of secrets to the shining truth underneath: friendship, just like family, is worth fighting for.
Praise For…
---
★ "A well-told story celebrating the power of friendship to comfort and heal when families fall short." — Kirkus Reviews (starred review)
"Vickers offers insightful portrayals of the two main characters as well as the complex backstories that make up their family lives" — Booklist Online
"The novel is honest about how difficult changes, internal and external, can be, but is ultimately reassuring: traditions, even beloved ones, are allowed to evolve." — The Horn Book
"A captivating story with tremendous heart" — School Library Journal
Praise for LIKE MAGIC: ★ "An endlessly endearing story of three girls' pursuit of friendship and the beauty and challenge of what it means to be 10." — Kirkus Reviews (starred review)
Praise for LIKE MAGIC: "Young readers will imagine themselves right smack into the middle of this book—solving mysteries, making connections, and creating beauty alongside Malia, Jada, and Grace. Like Magic is truly a treasure." — Liz Garton Scanlon, author of The Great Good Summer
Praise for LIKE MAGIC: "Debut novelist Vickers has created three appealing, diverse characters with distinct talents and voices. Just right for sensitive tweens, this is a sweet story of friendship and learning to cope with common fears and life changes." — School Library Journal
Praise for LIKE MAGIC: "Themes of sharing, trust, and family never overshadow the story's heart: a natural longing for friendship and the unfettered joy of finding it." — Publishers Weekly
Praise for LIKE MAGIC: "Endearing debut. The setting and gracefully embedded ethnic differences add freshness to a story with a message that will stand the test of time: friendship is like magic." — Booklist