Fiesta at Rick's: Fabulous Food for Great Times with Friends (Hardcover)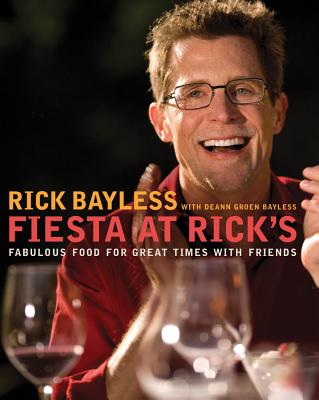 $35.00
Email or call for price
Description
---
Entertaining made easy, with Mexican-inspired recipes and handy tips from the celebrity chef and winner of Bravo's Top Chef Masters.
Whether you're hosting a casual get-together with friends or throwing an outdoor shindig, no one can teach you the art of fiesta like Rick Bayless. With 150 recipes, Bayless offers you the key to unforgettable parties that will have guests clamoring for repeat invitations. There are recipes for small-dish snacking (Mushroom Ceviche, Devilish Shrimp), dynamic cocktails to get the party started (Champagne Margarita, Sizzling Mojito), and Bayless's signature takes on Mexican street food (Grilled Pork Tacos al Pastor, Roasted Vegetable Enchiladas). Live-fire grilled fish and meat dishes like the "Brava" Steak with "Lazy" Salsa will draw friends and family to the glow of open flames. And if you're going to throw a truly epic celebration, you'll need a killer finale like Frontera Grill's Chocolate Pecan Pie Bars or Dark Chocolate–Chile Ice Cream.
Fiesta at Rick's
offers 150 diverse preparations organized into easy-to-follow chapters. But it's far more than a collection of recipes. With four complete, can't-miss menus for parties ranging from a Luxury Guacamole Bar Cocktail Party for 12 to a Classic Mexican Mole Fiesta for 24, Bayless has all your friends covered. Each of these parties has a complete game plan, from a thought-out time line with advance shopping and preparation to a fiesta playlist. Whether a first-time entertainer or a seasoned veteran, anyone can learn from the helpful sidebars, which cover topics such as how to shuck oysters, the perfect avocado for guacamole, and the best way to pick out fresh fish for ceviche preparations. Bayless breaks down the timeless building blocks that make up authentic Mexican food, explaining the value of fresh tortillas and providing surprisingly simple instructions for making your own Mexican Fresh Cheese.
Bayless's entertaining blueprint eliminates the guesswork, so you can let your inspiration run free. Companion to seasons six and seven of Rick's Public Television series
Mexico—One Plate at a Time
,
Fiesta at Rick's
is required reading for everyone who loves opening their home to friends and good times.
About the Author
---
Rick Bayless has done more to bring authentic Mexican cooking to America than any other cookbook author and chef. He is a six-time James Beard Award winner and the host of Mexico: One Plate at a Time. He is the chef-owner of Frontera Grill, Topolobampo, Xoco, and Tortas Frontera. Rick won the first season of Top Chef Masters and is the recipient of Mexico's Order of the Aztec Eagle, the highest honor awarded to foreigners. His cookbooks include Fiesta at Rick's, Mexican Everyday, and More Mexican Everyday.

Deann Groen Bayless has co-authored nine cookbooks with her husband Rick Bayless and is the co-owner of a growing family of Mexican restaurants, including Frontera Grill, Topolobampo, Xoco, and Tortas Frontera. She is a former president of Women Chefs and Restaurants, an organization that advocates for women in the restaurant industry, and the executive producer of the PBS television show Mexico, One Plate At A Time.
Praise For…
---
The hardest thing about using this book isn't finding the ingredients (today, practically every small town has a great Mexican grocery), it's keeping yourself from eating everything before the guests arrive.
— The New York Times Book Review

Rick Bayless is el mejor cocinero! His flavors are so intense and layered that each bite brings tears to your eyes and that's not just the chili peppers! I love everything about Rick; I'm so happy he shares his knowledge of Mexican cuisine with all of us. He's inspired many of my friends—every age, size, shape, male, female—as well as myself to have more fiestas!

— Rachael Ray

There is Mexican Cuisine and there is Rick B. Mexican Cuisine. Rick is internationally renowned for his innovation and dedication in his culinary pursuits as a great teacher, TV host, and pioneer in his field. The delicious recipes in this trendsetting cookbook celebrate his best dishes, from the succulent Grilled Garlic and Orange Guacamole to the Champagne Margarita. It's a taste of what's to come in Fiesta at Rick's. The ultimate collection of recipes shines at the dinner table when enjoying the fireworks of flavors with friends!

— Hubert Keller, Fleur de Lys

Rick Bayless is a Chef's Chef if there ever was one. The food he cooks, the generous spirit in which it's shared, the respect he honors Mexico with and the flavor. . . . Wow, the flavor he delivers is what we crave at the end of a long week in the kitchen. I am confident the end of your week will be much better with a table full of friends and Fiesta at Rick's at hand. No one, in my lifetime, has captured better Mexico on a plate!

— Michael Chiarello, Bottega

Rick Bayless, an American culinary treasure, has tirelessly taught us the fine art of Mexican cooking. He now invites us to a fiesta of flavors with recipes that have been created for entertaining. America loves Mexican food, and we love our Top Chef Master Rick Bayless. Thank you for inviting us to the fiesta!

— Art Smith, celebrity chef and best-selling author

I was lucky enough to attend a fiesta in Rick Bayless's backyard and fondly remember Rick's amazing food. He made throwing a party look so effortless. My brother-in-law is a great cook, and I cannot wait to share my copy of Fiesta at Rick's with him so he can re-create Rick's magic for me and my family.

— Gary Sinise, actor, CSI New York