The False Prince (The Ascendance Series, Book 1) (Paperback)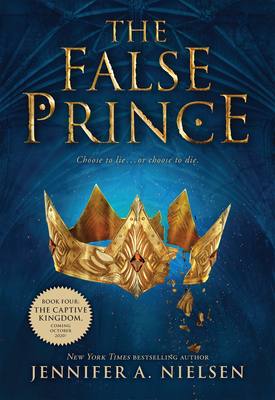 $8.99

Usually Ships in 1-5 Days
Other Books in Series
This is book number 1 in the The Ascendance Series series.
kids Kids Indie Next List
---
"Led by the intimidating but brilliant Connor, four orphans are forced to compete for the essential role in a treasonous plot -- that of impersonating the long-disappeared Prince Jaron of Carthya. Set in the Middle Ages, this tale invites readers to follow 15-year-old Sage, a defiant and witty orphan, through a twisted, dangerous, and all-consuming journey that, if unsuccessful, will result in his death. Full of suspense and dark humor, The False Prince is a compelling read. I look forward to Book Two"
— Stephenie McCollum, Copperfield's Books, Santa Rosa, CA
Description
---
A modern classic by #1New York Times bestselling author Jennifer A. Nielsen, The False Prince thrills with wild twists and turns, danger and deceit, and the revelation of hidden identities that will have readers rushing breathlessly to the end.
In a discontented kingdom, civil war is brewing. To unify the divided people, Conner, a nobleman of the court, devises a cunning plan to find an impersonator of the king's long-lost son and install him as a puppet prince. Four orphans are recruited to compete for the role, including a defiant boy named Sage. Sage knows that Conner's motives are more than questionable, yet his life balances on a sword's point -- he must be chosen to play the prince or he will certainly be killed. But Sage's rivals have their own agendas as well.
As Sage moves from a rundown orphanage to Conner's sumptuous palace, layer upon layer of treachery and deceit unfold, until finally, a truth is revealed that, in the end, may very well prove more dangerous than all of the lies taken together.
Read the book that started it all! #1 New York Times bestselling author Jennifer A. Nielsen weaves a thrilling tale of grand adventure, intrigue, and treason packed with battles of wits and wills in this rollercoaster of a read.
About the Author
---
Jennifer A. Nielsen is the acclaimed author of the New York Times and USA Today bestselling Ascendance Series: The False Prince, The Runaway King, The Shadow Throne, The Captive Kingdom, and The Shattered Castle. She also wrote the New York Times bestseller The Traitor's Game and its sequels,The Deceiver's Heart, and The Warrior's Curse; the New York Times bestselling Mark of the Thief trilogy: Mark of the Thief, Rise of the Wolf, and Wrath of the Storm; the standalone fantasy The Scourge; and the critically acclaimed historical thrillers A Night Divided, Resistance, Words on Fire, Rescue, Lines of Courage, and the forthcoming Iceberg. Jennifer collects old books, loves good theater, and thinks that a quiet afternoon in the mountains makes for a nearly perfect moment. She lives in northern Utah with her family, and is probably sneaking in a bite of dark chocolate right now. You can visit her online at jennielsen.com or follow her on Twitter and Instagram at @nielsenwriter.
Praise For…
---
Praise for The False Prince:
A New York Times Notable Children's Book
A Publishers Weekly Best Book of the Year
Winner of the Cybils Award for Middle-Grade Fantasy & Science Fiction
"A page turner...." -- New York Times Book Review
"Sage proves to be a compelling character whose sharp mind and shrewd self-possession will make readers eager to follow him into a sequel." -- Wall Street Journal
"This kickoff to her new 'Ascendance Trilogy' is a swashbuckling origin story. . . . Sage is a quick wit, and Nielsen showcases it with terrific dialogue... chock full of alluring details for adventure-loving boys." -- Los Angeles Times
* "Sage is deftly characterized through humorous first-person narration, quickly establishing himself as a beguiling antihero. . . . First in the 'Ascendancy Trilogy,' this is an impressive, promising story with some expertly executed twists." -- Publishers Weekly, starred review
"Nielsen has written a terrific story that carries readers along to the very (surprising) end and will leave them clamoring for the next book in her trilogy." -- BookPage, featured "Top Pick" review
"The False Prince is more Harry Potter (minus the magic) than Hunger Games... with authentic characters, a convincing sense of danger and a genuinely high-stakes plot.... " -- Hollywood Reporter
"Sure to appeal to middle-grade readers, The False Prince is an imaginative, plot-driven adventure story with a classic feel.... Readers will be turning pages feverishly, especially toward the climax of the novel. Deception and betrayal abound!" -- RT Book Reviews
"The delight of Nielsen's story is the discovery of the true motivations of all the characters in a fast-paced plot with plenty of action, mystery and violence." -- Columbus Dispatch
"The False Prince is a gracefully written fantasy that flows from beginning to end without a hitch.... In addition to dynamic characters, Jennifer Nielsen has created a plot with twists and turns in all the right places." -- Deseret News
"Ruthless ambition, fierce action and plotting, complex characters and lots of sword play and hidden passages keep pages flipping. Readers of this multifaceted, well-crafted tale will eagerly await Sage's further adventures." -- Kirkus Reviews
"Fast-paced and exciting, this book will appeal to readers who enjoy intrigue mixed in with their adventure.... Full of machinations and surprises, this book will keep students reading until the last page and eager for the second in the trilogy." -- School Library Journal
"A sure-fire mix of adventure, mystery, and suspense." -- The Horn Book
Praise for
The False Prince
:A
New York Times
Notable Children's BookA
Publishers Weekly
Best Book of the YearWinner of the Cybils Award for Middle-Grade Fantasy & Science Fiction"A page turner...." --
New York Times Book Review
"Sage proves to be a compelling character whose sharp mind and shrewd self-possession will make readers eager to follow him into a sequel." --
Wall Street Journal
"This kickoff to her new 'Ascendance Trilogy' is a swashbuckling origin story. . . . Sage is a quick wit, and Nielsen showcases it with terrific dialogue... chock full of alluring details for adventure-loving boys." --
Los Angeles Times
* "Sage is deftly characterized through humorous first-person narration, quickly establishing himself as a beguiling antihero. . . . First in the 'Ascendancy Trilogy,' this is an impressive, promising story with some expertly executed twists." --
Publishers Weekly
, starred review"Nielsen has written a terrific story that carries readers along to the very (surprising) end and will leave them clamoring for the next book in her trilogy." --
BookPage
, featured "Top Pick" review"The False Prince is more Harry Potter (minus the magic) than Hunger Games... with authentic characters, a convincing sense of danger and a genuinely high-stakes plot.... " --
Hollywood Reporter
"Sure to appeal to middle-grade readers,
The False Prince
is an imaginative, plot-driven adventure story with a classic feel.... Readers will be turning pages feverishly, especially toward the climax of the novel. Deception and betrayal abound!" --
RT Book Reviews
"The delight of Nielsen's story is the discovery of the true motivations of all the characters in a fast-paced plot with plenty of action, mystery and violence." --
Columbus Dispatch
"The False Prince is a gracefully written fantasy that flows from beginning to end without a hitch.... In addition to dynamic characters, Jennifer Nielsen has created a plot with twists and turns in all the right places." --
Deseret News
"Ruthless ambition, fierce action and plotting, complex characters and lots of sword play and hidden passages keep pages flipping. Readers of this multifaceted, well-crafted tale will eagerly await Sage's further adventures." --
Kirkus Reviews
"Fast-paced and exciting, this book will appeal to readers who enjoy intrigue mixed in with their adventure.... Full of machinations and surprises, this book will keep students reading until the last page and eager for the second in the trilogy." --
School Library Journal
"A sure-fire mix of adventure, mystery, and suspense." --
The Horn Book