Pati's Mexican Table: The Secrets of Real Mexican Home Cooking (Hardcover)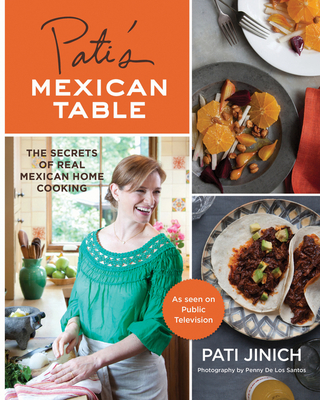 $30.00

Usually Ships in 1-5 Days
Description
---
The host of the highly popular PBS show Pati's Mexican Table shares everyday Mexican dishes, from the traditional to creative twists.
Pati Jinich has a mission. She's out to prove that Mexican home cooking is quicker and far easier than most Americans think.
Surprising in their simplicity and freshness, Pati's recipes incorporate produce and grains. Most important, they fit perfectly into an everyday family cooking schedule and use just a handful of ingredients, most of which are already in your pantry. Many are homey specialties that Pati learned from her mother and grandmother, some are creative spins on classics, while others are not well known outside of Mexico.
Dishes like Chicken à la Trash (it's delicious!), a one-pot meal that Pati gleaned from a Mexican restaurant cook; Mexican Meatballs with Mint and Chipotle; Sweet and Salty Salmon; and Mexican-Style Pasta can revitalize your daily repertoire. You'll find plenty of vegetarian fare, from Classic Avocado Soup, to Divorced Eggs (with red and green salsa), to Oaxaca-Style Mushroom and Cheese Quesadillas.
Your friends and family will enjoy Tomato and Mozzarella Salad with Pickled Ancho Chile Vinaigrette; Crab Cakes with Jalapeño Aioli; and Chicken Tinga—(you can use rotisserie chicken), which makes a tasty filling for tortas and tostadas. Pati also shares exciting dishes for the holidays and other special occasions, including Mexican Thanksgiving Turkey with Chorizo, Pecan, Apple, and Corn Bread Stuffing; Spiral-Cut Beef Tenderloin; and Red Pozole ("a Mexican party in a bowl"), which she served on her wedding day. Desserts like Triple Orange Mexican Wedding Cookies, Scribble Cookies (sandwich cookies filled with chocolate), and little Apricot-Lime Glazed Mini Pound Cakes are sophisticated yet simple to make.
About the Author
---
PATI JINICH (pronounced HEEN-ich) is the host of the three-time James Beard Award-winning PBS series Pati's Mexican Table, now in its tenth season. Named one of the "100 Greatest Cooks of All-Time" by Epicurious and Bon Appétit, she has won a Gracie Award for her television work and is a four-time Emmy nominee and two-time IACP Award winner. She is the resident chef of the Mexican Cultural Institute and has appeared on NPR's Splendid Table and All Things Considered, NBC's Today, CBS's The Talk, ABC's Good Morning America, and Food Network. Born and raised in Mexico City, she lives in Chevy Chase, Maryland, with her husband and three boys.  
Praise For…
---
"The book is filled with bright, fresh flavors and dishes that are wonderful in their simplicity."
—Publishers Weekly   "Pati Jinich is a breath of fresh air in the food world. She's warm, beyond smart, she's funny and a generous and gifted cook. She knows Mexican food as her heritage and as a scholar, but knows, too, the realities of being a working mother. She never gave up on the tastes she grew up with, but she's got an uncanny way of streamlining how she recreates them. This is one of those books you'll be cooking and learning from for a long time."
—Lynne Rossetto Kasper, Splendid Table host   "Pati Jinich has created the most delicious guidebook to the magnificent market-driven home cooking of Mexico that I've ever seen. This book makes it simple to create fresh and tasty Mexican food and inspires me to make soft fresh torillas, pickle my own jalapeños, and delight in Chicken Tinga with my family. This book will become a family heirloom at my house forever."
— Mario Batali —