River of Fire (Paperback)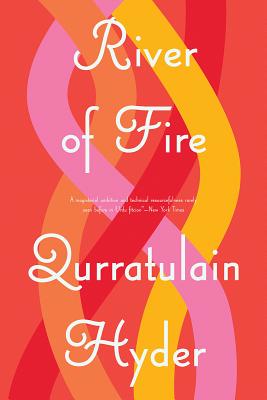 $19.95
Usually Ships in 1-5 Days
Description
---
"Magisterial" (Pankaj Mishra, The New York Review of Books) and "to Urdu fiction what One Hundred Years of Solitude is to Hispanic literature" (TLS)
The most important novel of twentieth-century Urdu fiction, Qurratulain Hyder's
River of Fire
encompasses the fates of four recurring characters over two and a half millennia. These characters become crisscrossed and strangely inseparable over different eras, forming and reforming their relationships in romance and war, in possession and dispossession.
River of Fire
interweaves parables, legends, dreams, diaries, and letters, forming a rich tapestry of history and human emotions and redefining Indian identity. But above all, it's a unique pleasure to read Hyder's singular prose style: "Lyrical and witty, occasionally idiosyncratic, it is always alluring and allusive: Flora Annie Steel and E. M. Forster encounter classical Urdu poets; Eliot and Virginia Woolf meet Faiz Ahmed Faiz" (
The Times Literary Supplement
).
About the Author
---
Qurratulain Hyder (1926-2007) is widely regarded as the grande dame of Urdu literature. To her fans and admirers she is popularly known as "Ainee Apa." The Prime Minister of India said at her funeral, "With her unfortunate passing, the country has lost a towering literary figure."
Praise For…
---
River of Fire gushes across more than 2,000 years of subcontinental history, carving narrative mountains and valleys for us to hike across. It floods us with details: names, philosophies, politics, religion, the history of Urdu literature. Each time the water recedes, Hyder's characters are left parched with nostalgia, to be quenched only when the river is next in spate. It takes inventive writing to evoke such a seasonal narrative.


Qurratulain Hyder is a wonderful writer. She pairs enormous erudition with a careful eye to detail. Hers is one of the most important Indian voices of the twentieth century.
— Amitav Ghosh

A sprawling, postmodern epic, a radical history of the subcontinent which
draws on two millennia of history in a vivid demonstration that Euro-American
civilization doesn't have a monopoly on progress or cosmopolitanism, a
towering fictional achievement which summons up a country in flux and casts
a steely eye over the myths of colonialism. Hyder successfully weaves this
fictional universe together with a cast of characters that's not only diverse but
also most intriguing.