The Lair of Bones (Runelords #4) (Paperback)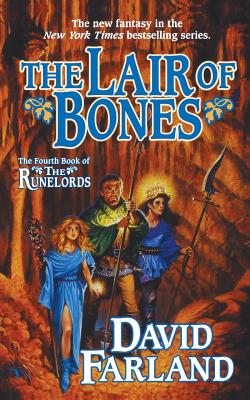 $29.99
Usually Ships in 1-5 Days
Other Books in Series
This is book number 4 in the Runelords series.
Description
---
Certain works of fantasy are immediately recognizable as monuments, towering above the rest of the category. They have been written by the likes of Stephen R. Donaldson, Robert Jordan, and Terry Goodkind. Now add to that list David Farland, whose epic fantasy series began with The Runelords, continued in Brotherhood of the Wolf and the New York Times bestseller Wizardborn, and reaches its peak now in The Lair of Bones.

Prince Gaborn, the Earth King, has defeated the forces arrayed against him each time before: the magical and human forces marshaled by Raj Ahten, who seeks immortality at any cost and has given up his humanity in trade; and the inhuman, innumerable, insectile hordes of the giant Reavers from under the Earth, whose motives are unknowable, but inimical to human life. Now there must be final confrontations, both on the field of battle, with the supernatural creature that Raj Ahten has become, and underground, in the cavernous homeland of the Reavers, where the sorcerous One True Master who rules them all lies in wait--in the Lair of Bones. The survival of the human race on Earth is at stake.
About the Author
---
David Farland is the author of the bestselling Runelords series, including Chaosbound, The Wyrmling Horde and Worldbinder. He also writes science fiction as David Wolverton. He won the 1987 Writers of the Future contest, and has been nominated for a Nebula Award and a Hugo Award. Farland also works as a video game designer, and has taught writing seminars around the U.S. and Canada. He lives in Saint George, Utah.
Praise For…
---
"When I reached the end of first volume, The Runelords, and saw grace arise from a devastating battlefield where too many great hearts lay dead, Farland had earned the tears that came to my eyes. It was not sentiment, but epiphany." —Orson Scott Card

"Certain works of fantasy are immediately recognizable as monuments, towering above the rest of the category. They have been written by the likes of Stephen R. Donaldson, Robert Jordan, and Terry Goodkind. Now add to that list David Farland, whose epic fantasy series began with The Runelords, continued in Brotherhood of the Wolf and the New York Times bestseller Wizardborn, and reaches its peak now in The Lair of Bones.

Prince Gaborn, the Earth King, has defeated the forces arrayed against him each time before: the magical and human forces marshaled by Raj Ahten, who seeks immortality at any cost and has given up his humanity in trade; and the inhuman, innumerable, insectile hordes of the giant Reavers from under the Earth, whose motives are unknowable, but inimical to human life. Now there must be final confrontations, both on the field of battle, with the supernatural creature that Raj Ahten has become, and underground, in the cavernous homeland of the Reavers, where the sorcerous One True Master who rules them all lies in wait--in the Lair of Bones. The survival of the human race on Earth is at stake.

In The Runelords David Farland has created a vivid, detailed, different world that becomes perfectly believable. The characters are real, the action fast, and the sum a brilliant and engrossing novel." —David Drake

"The author's imaginative approach to magic, coupled with a richly detailed fantasy world and a cast of memorable heroes and villains, adds depth and variety to this epic tale of war and valor." —Library Journal on Wizardborn

"An exciting fantasy adventure that is quite different from the previous two novels as action takes a backseat to understanding the principal characters. . . . David Farland has written an entertaining tale that his fans will enjoy ." —Midwest Book Review on Wizardborn

"In Brotherhood of the Wolf, David Farland continues the intriguing premise he established in The Runelords, but with more intensity in every way. . . .Clearly, this is becoming a masterwork of history-spanning fantasy." —Kevin J. Anderson, co-author of Dune: House Atreides

"The Runelords is a first-rate tale, an epic fantasy that more than delivers on its promise. Read it soon and treat yourself to an adventure you won't forget." —Terry Brooks

"David Farland is a consummate stylist, and his characters are so alive they walk right off the page. The Runelords is a wonderful fantasy novel." —Robert J. Sawyer