Story Time with Two Mystery Readers
Posted on: 1 March 2023
By:

TanyaMills
? ? (Hint: They know these books)
Regina Grey, who is not good at much of anything, discovers she has a talent for helping others with her advice.
Introducing the playground problem solver who uses quick thinking, practicality, tenacity, love of reading, and a little creative perspective to help her schoolmates out of their stickiest jams; From the author of Help Wanted: Must Love Books and the illustrator of Hello World!
Regina Grey's never had much of a knack for anything, apart from disappearing into her books. She muddles her math, splutters her spelling, and gets jumbled up in gym.
Until the day she off-handedly solves a classmate's brother troubles. Soon, rumor spreads across the playground of the pint-sized crisis manager who makes her office at the top of the jungle gym. She can solve any problem. Itchy cast? Here's a stick to get to the spot. Gum stuck in your hair? Snip, snip solved. It's like she's a genius--a recess genius.
But all that problem solving for other kids doesn't leave much time for escaping in her books. Can the Recess Genius use her magical power to solve her own dilemma? (Ages 4-7)
About the Author:
Janet Sumner Johnson is also the author of Help Wanted, Must Love Books, which was the winner of the 2021 CLEL Bell Picture Book Award and was nominated for the Washington and Colorado Children's Book Awards. She lives in northern Utah with her husband, three kids, and a dog. As a kid, she learned to distinguish good advice from bad after following her big sister's suggestion to cut her own bangs. When she's not writing, Janet loves eating cookies, laughing, and going on long walks. You can learn more about her and her books at JanetSumnerJohnson.com.
This funny and fact-filled picture book is all about blood: where it's found, what it does, how it travels, and why vampires shouldn't drink it. From the four chambers of the heart to the platelets that clot your blood when you scrape your knee, everything you want to know about the cardiovascular system is right inside these pages. Just watch out for thirsty vampires.
Welcome to I Don't Vant to Suck Your Blood Smoothie Shop, where all products are 100% blood-free!
That's good news for humans, but bad news for a thirsty vampire who just wants a pint of O-positive. With a little help from a friend, he'll realize that blood isn't a beverage. Humans need it! Blood delivers oxygen and nutrients, helps fight off infections, and so much more. So grab Blood! Not Just a Vampire Drink and a pineapple-spinach smoothie, and find out why blood is such a fabulous fluid. (Ages 4-8)
A boy who loves to dance wants to be a pirate, but the pirate captain has a rule against dancing.
Jack longs to be a pirate. He loves everything about the job, from the opportunity to make new friends to the excitement of exotic travel. Jack also loves to dance, from the graceful glide of the glissade to the energetic leap of the grand jйtй. In fact, Jack often dances as he does his pirate apprentice chores. Unfortunately, Captain Squinty Eye's number one rule is PIRATES DON'T DANCE. Dancing is too silly for a rough, tough pirate. Can Jack convince the captain that dancing is not a bad thing, and may even help Jack be a better pirate? (Back matter includes explanations of dance movements and definitions of pirate speak.) (Ages 4-8)
About the Author and Illustrator:
Shawna J. C. Tenney wonders if having type A+ blood helps her to make A+ artwork (hey, it's possible! Okay, probably not). When she isn't draining the life out of chocolate bars, she can be found in her studio creating stories like her author-illustrated picture books, Pirates Don't Dance! and Brunhilda's Backwards Day or illustrations for books like Blood! Not Just a Vampire Drink. She lives in Utah with her two kids, two cats, and one husband.

Event address:
94 West Tabernacle Street
Children's Room
St. George
,
UT
84770-4087

$18.99

ISBN: 9781645951384
Availability: Usually Ships in 1-5 Days
Published: Pixel+Ink - March 14th, 2023
---

$18.99

ISBN: 9781250304056
Availability: Usually Ships in 1-5 Days
Published: Henry Holt and Co. (BYR) - August 30th, 2022
---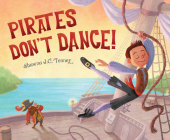 $17.99

ISBN: 9781534111585
Availability: Usually Ships in 1-5 Days
Published: Sleeping Bear Press - August 26th, 2022
---